Turn your students into SUPER SIGHT readers – Help them master intervallic sight reading with FUN & games!
The intervallic sight reading approach trains students to read music like a road map, teaching them to recognise direction and distance at a glance – a much quicker way to read music!  'Seaworthy Sight Reading' Slap Cards make sight reading drill fun, and thereby help students become adept at reading note pitch patterns, building fluency and confidence.
Mastering sight reading also requires lots of practice with fresh material, and these 'SLAP' Cards give you a big bundle of fresh, new material with 144 cards of different note patterns, in six sequential levels.  (For even more variety, students love the quirkiness of reading them backwards too…!)
The 'Seaworthy Sight Reading' bundle gives you custom made resources for sequential learning:
Each individual level contains 24 cards, with both treble and bass staff, giving plenty of practice and revision.
Each successive level throws a new interval into the mix, allowing student to progress comfortably, while still extending their sight reading ability.
In addition to this, the final set revises and tests understanding and sight reading of note patterns with ALL intervals up to an octave.  A great way to revise and test student learning & retention.
The posters give you a bundle of visual tools for easy understanding and revision of intervals and important sight reading strategies, including leger lines.
Challenge your students to complete ALL six levels to become an INTERVAL WIZARD!
Take a look through:
Do you need good resources to help students EASILY understand Intervallic Sight Reading strategies?
No problem, we've got you covered, with our sight reading posters! 
The 'Music Intervals Poster Pair' Set (with the Cat & Dog theme) explains intervals by both number and quality, and the 'Seaworthy Sight Reading' 4 poster set (with pirate theme) teaches four essential sight reading strategies, helping students understand each of the steps required to build good sight reading skills.
Each set includes the posters in 3 sizes – use the larger sizes for wall display, and the smaller card-sized ones to send home with students to decorate their practice space, and give them an ongoing reminder the best sight reading habits.  You can banish your students' sight reading struggles with these simple but comprehensive teaching tools!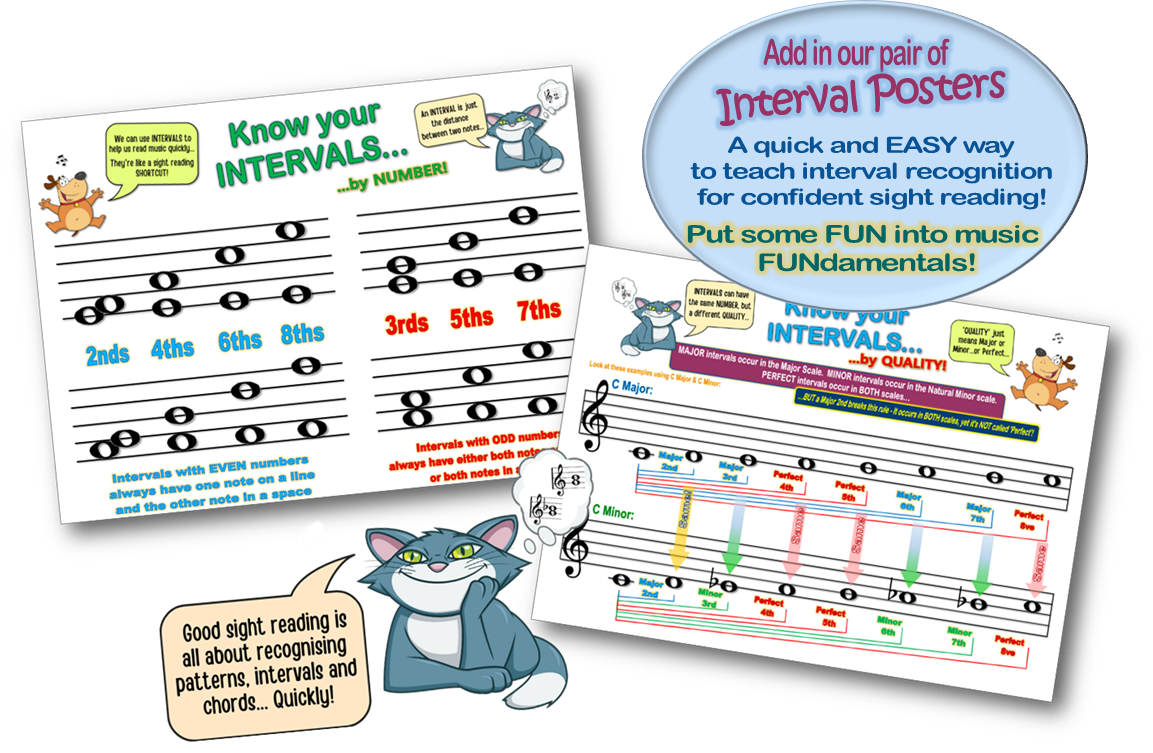 Purchase Options explained:
'Get the LOT" Big Bundle – Includes ALL six levels of sight reading 'slap' cards AND all the posters shown here – This bundle is great value giving you lots of sight reading teaching resources and saving you 15%.  Printing, set-up and game playing instructions all included.

The Complete Set includes: All SIX levels of  the 'Seaworthy Sight Reading SLAP Cards' – 144 cards in total, on 24 pages. 

Printing, set-up and game playing instructions all included.

The 'Music Intervals Poster Pair' set – The two-poster set, with cat & dog theme, shown above.
The 'Seaworthy Sight Reading' 4 poster set – The four poster set, with pirate theme, shown above.
Available Immediately:
The Slap Card Sets & Posters are easy to download and print.  The Slap Cards sets have six double sided pages per level, with four cards on each page.  Print it yourself, or take it to a print shop.  The PDF files are set up to print on both sides of the page, giving each Slap Card a 'decorative' card back.  All printing and playing instructions are included, to keep it user-friendly!
For great value, all options include a Studio License – You may print these cards and posters for all the students you teach directly and personally, for life.  Music schools with multiple teachers will need to purchase a copy for each teacher using this material.
Read more about the Interval Posters Set Here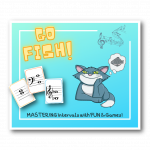 Are you looking for more resources to teach interval recognition and naming?  You may also like our Go FISH! Card Game Bundle – check it out HERE – which also includes this poster set
Do you need to help students connect intervals with KEYBOARD GEOGRAPHY?  It's a great way to improve sight reading fluency too – Check out our Interval Detective Card Games AND Board Game – check it out HERE
We especially appreciate 5 star ratings, so if you purchase this product and have any concerns that may lower your rating, please contact us and we will endeavour to rectify any problem!
—oooOooo—
All our download files are in PDF format, ready to save, print and use.  Some files, especially our 'bundles' are in zipped folders to make them compact and easier to transfer.  To unzip files you can download a free program HERE   Our 'online' and 'on-device' teaching resources, such as tutorials, slideshows and online/digital games, will be saved directly to your Google Drive.  If you have any questions, please check the FAQ's at the bottom of our home page.  If your question is not there, you can email us directly at info@88musicalkeys.com  Thank you!