Sick of hearing 'But it sounded fine at home…'?  Then this little book of practice strategies may be for you!  Give them a full set of music practice tips to help them practice more efficiently and effectively between lessons – Especially great for piano practice!

Full of helpful, accessible practice strategies gleaned from years of private music teaching.  The concise, easy to read, engaging, student-friendly layout allows students to quickly get practice help to make the best use of those six days in between their music lessons!  Teachers can implement the book's learning strategies in lessons, to support and reinforce its use at home.  With the same basic information as our original children's edition, this edition is great for older students – teenagers and adults. Text, fonts and graphics have been revised to interest the older student.
Features:
43+ efficient and comprehensive practice strategies, with almost infinite combinations, to make mid-week practice more effective
Including 11 BOREDOM BUSTING Practice Tricks specifically for technical work!
The student-friendly design is intended to entice students to engage & achieve – Graphics support the text throughout
'Tricks' for all stages of learning, from starting a new piece, through deep learning, polishing and performing
Fosters healthy meta-cognitive learning
Makes professional style practice strategies accessible to students, to accelerate learning
Improves focus & confidence
Print it yourself, or take it to a stationery shop – printing cost may be passed on to your students.  When printed & assembled this is an A5 booklet containing 36 pages (including cover).  We have designed it in a ready-to-print format – The PDF file prints on A4 paper, in landscape direction, double sided, making it more cost effective for you to print.  To print on letter size paper, click 'fit to size' in your printer setting.  Printing & assembly instructions are included.
Great for distance learning via Skype or Zoom type lessons – helps students to problem-solve their own practice issues.  These practice tricks are good for many instruments, but especially useful for piano.
Suitable for students from late elementary right through to advanced grades – many of these tricks can be used and combined in different ways, making them very versatile.
Take a look through some sample pages…
Get the Music Journal to help students 'Campaign Track' their progress
We also offer these two books as a Discount Bundle!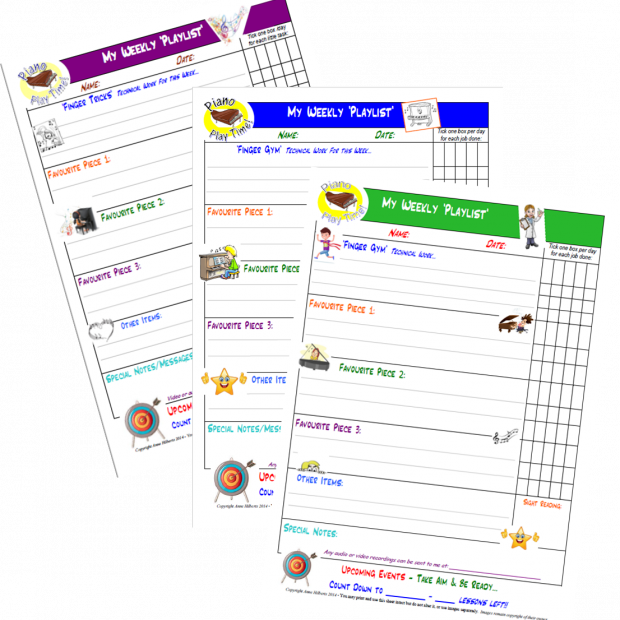 You may also like these free Music Practice To-Do Lists – they work well alongside these books!
Purchase Options Explained:
'One Student Only' Option – Students can use this option to download, print and use it for their own use.  Neither the files nor the printed book may be given to anyone else, under any conditions.
'Single Teacher – Studio Licence' – Buy this unique book of practice tricks, and print it for all your own regular students, that you teach directly and personally, for life.  The printed books themselves may not be sold, but the actual cost of printing cost may be passed on to the student (product files may never be shared with students, or anyone else).  Music school with multiple teachers will need to buy one digital copy per teacher.
LOYALTY OFFER:  Have you already got our Original Children's 'Bag of Practice Tricks' book, but would like to get this edition too, to help your older students, for only $6 usd?  Simply email a copy/screenshot of your original 'Bag of Practice Tricks' receipt to me at info@88musicalkeys.com to receive access to this Older Student's edition download – with a BIG 66% OFF!