Do your students need to improve their music intervals recognition? Help them master them faster with a Card Game and Studio Challenge! 
Conquering music intervals recognition helps students become familiar with the language of music, improve their intervallic sight reading skills and fluency, understand music theory, and learn the building blocks of chords… But intervals can be pretty dry and boring, unless you use a CARD GAME with a Studio Challenge!
The Complete Bundle Includes everything listed here: 
1 – The 'Go FISH!' Interval Game in THREE levels, progressing from Easy to Intermediate:
Level 1 – Great for beginner and early elementary students – Simple notation – No clefs – Intervals are matched by number only, in this level. Includes 48 cards – choose the cards you want your students to learn.
Level 2 – Extends interval reading, and includes both treble and bass staff – Intervals are matched by number in this level also. Includes 139 cards in this set – choose the cards you want your students to learn.
Level 3 – The CHALLENGE is increased!  Intervals are given in several different keys (using accidentals) and are matched by quality as well as number in this level.  This set includes 200 cards – choose the cards & keys you want your students to learn.
Each card game level includes Game Rules & three BONUS Game Variations… Keeping it FUN!  And all three games work with the GoFISH! LeaderBoard too – Students of all levels can get involved & sharpen up their skills!
Student Friendly – All cards are double sided, with eye-catching, custom designed 'card backs' – making it feel like a 'real' card game
2 – Two BRIGHT 'Interval Info' Posters: Do your students need a prompt, to help them remember how to name intervals?  Add in our Interval Info Posters in THREE sizes – Large ones are great for room display, and the smaller size is perfect as a student handout!
3 – Studio Challenge LeaderBoard – Inspire and Motivate students to master interval recognition with a Studio Gaming Challenge – Keep a track of their victories right here on our matching Leader Board poster!
4 – Studio License – for every item.  Buy it once and use it with all the students that you teach directly – you can even print card sets for students to play with at home!
Need a closer look at these materials?
Take a Look Through Set 1:
Take a Look Through Set 2:
Take a Look Through Set 3:
Take a Look at the Interval Posters:
…And you can easily set up a Studio Challenge with the 'Go FISH' LeaderBoard!
Flexible Use:
Use the games with students in one-to-one music lessons
Great for a group classes – either instrumental or theory!
A FUN way to improve music theory skills
Use the LeaderBoard to motivate students to continue to gain competency with intervals
These cards are also great to use as Flash Cards – use them to reinforce keyboard geography as well as intervals
Versatile Purchase Options:
Get the complete  Go FISH! Card Game Bundle with 20% OFF –  This includes ALL three card game sets, and both posters – All with Studio License – use it with all the students that you teach directly
Alternatively, you can just get the items you need now – Each of the above items are available individually, and also include Studio License.
Print it yourself, or take it to a stationery shop.  We have designed all the files in a ready-to-print format – Printing Instructions and Game Playing Rules are all included.  And the best thing about buying a Studio Licensed product, is that when the cards or posters start to look a bit worn, you can easily get a fresh new set, without having to buy it all again!
Do you need to help students connect intervals with KEYBOARD GEOGRAPHY?  It's a great way to improve sight reading fluency too – Check out our Interval Detective Card Games AND Board Game – check it out HERE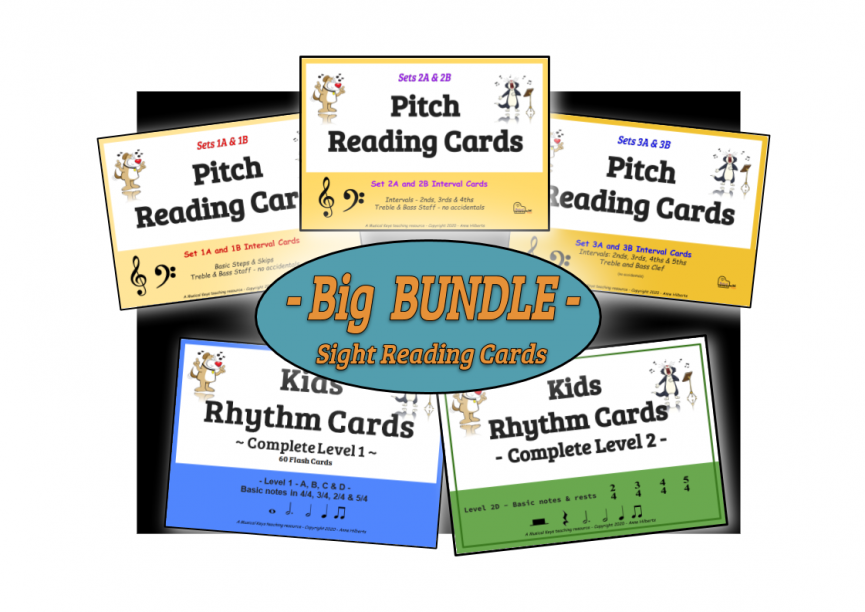 Looking for more sight reading resources?  Check out our digital Pitch Reading Flash Cards and our digital Rhythm Reading Flash Cards   Great to use via screen share for online lessons, or for in-person lessons use them on your smart phone, iPad or computer.
We especially appreciate 5 star ratings, so if you purchase this product and have any concerns that may lower your rating, please contact us and we will endeavour to rectify any problem!
—oooOooo—
All our download files are in PDF format, ready to save, print and use.  Some files, especially our 'bundles' are in zipped folders to make them compact and easier to transfer.  To unzip these you can download a free program HERE   Our 'online' and 'on-device' teaching resources, such as tutorials, slideshows and online/digital games, will be saved directly to your Google Drive.  If you have any questions, please check the FAQ's at the bottom of our HOME page.  If your question is not there, you can email us directly at info@88musicalkeys.com  Thank you!